Trans Awareness Week 2020
This week is marked as Trans Awareness Week, and I have been unsure how exactly to observe.  I am sharing an IG Live with fellow gender autonomy parent, Dr Kyl Myers on Tuesday evening, and I wanted to gather my thoughts a bit in preparation of that. She invited me to share her audience and I wanted to make sure that I could use that wisely. 
I am always aware of transness, acutely; is the week for me? Who exactly is Trans Awareness Week for? What is it for?
In thinking about those questions, as my mind raced, flooded with ideas and lists; I realized I had my answer. I observe by doing my part, as a trans person, a writer, a story teller, and an educator to share and contribute to the awareness-at-large of trans bodies, trans genders, trans magics, trans struggles, and trans offerings. My existence is trans awareness; embodiment practices from breath to movement are exercises in trans awareness when you are trans. Additionally though, I have put in enough time seeking stories, perspectives outside my own, to feel confident that the collective well of 'trans' is boundless, inspiring, heartbreaking, brilliant, devastating, beautiful and divine. There are so many directions to direct your attention to this week, I wanted to share some that I consider dear and some I found in writing this that piqued my curiosity. Trans people hold gifts that can use your attention. Especially right now, as the world feels acutely aware of major shifts, the leadership of those who have been ignored, silenced, and pathologized is of utmost importance if we do not want inequity to reproduce itself. I am aware that my own position within whiteness, leaves me served by systems, I always have more to learn. As I work with breath and eye movement to expand my periphery and awareness within this trans body, I also look out with humility and gratitude to those around me who I consider teachers, collaborators and family. I encourage you to bring your attention, awareness, and resource to trans people this week, especially to folks with different axis of oppression than you may experience yourself.
Typically this week can be really grief heavy for trans folks and our families, particularly for folks who are living with experiencing racism as well as gender based violence. This year violence numbers are on the rise, again. The spread of far right ideology and emboldened populist movements has come with it violence that impacts trans folks, but this becomes compounded for trans women of colour, and other trans folks who are existing at the intersection of multiple streams of injustice. TDOR is always heavy, I remember being in college and being so swept up with school that I didn't notice what day it was. I felt spontaneously ill, but couldn't place it. When I eventually clued in to that my body was experiencing both an annual remembering and a shared collective experience of my community holding grief, it made more sense.
I needed to light a candle, breathe, cry, and do something to uplift the lives and well being of the trans folks still living and loving and struggling. And I encourage you to do so as well. If we spend the week leading up to TDOR giving the roses to those who still survive, it supports our grief for those who haven't.
For other trans folks, when we see ourselves, each other- recognize and acknowledge our capacities, we actually are rerouting a toxic self destructive set of neural pathways placed within us by a culture that is terrified of our full power. For folks who don't see themself as being a part of the infinitely dynamic range of trans, non-binary, gender non-conforming gendered experience; please use this week to listen, learn, let your perspectives be expanded and your preconceptions left behind. Let trans people help you see the world, yourself and that which you consider "natural" with more shades, more nuance, more possibility, more honesty, more creativity, and more magic.
If you watch that ubiquitous streaming network and haven't yet watched Disclosure, this week is a great time to take it in.
Black & Indigenous trans folks are leading the charge in bringing visionary futurism, raw honest calls for justice to liberation movements that are making big waves. I have made efforts to highlight where I can the contributions of BIPOC trans folks, folks living in so called canada, and folks whose trans activism and advocacy is also rooted in decolonization, prison abolition and intersectional movements for justice. The list that follows is an almost stream of consciousness trail of bread crumbs. Following them will unlock layers of creative brilliance, innovative leadership, and interconnected resilience. Remember, especially in Covid, many artists and activists are reliant on mutual aid- if you like what you find, you are moved or inspired, make donations- even better though is to set up recurring mutual aid agreements with auto payments or continuity pledges.
Lwanga Seagirl Abuson and I met last year as she joined the team of adult mentors in what became the last retreat of the Trans Tipping Point as the world rapidly shut down around us. She has a pride in her gender and her fabulous fashion, and a deep love for the people she had to leave behind when coming to Canada as a refugee last year. The community of LGBTQI people that she was a part of in Kakuma Refugee Camp in Kenya are faced with a nearly incomprehensible level of threat from violent attackers and now COVID 19. Seagirl continues to fundraise and send money directly to the community in Kakuma that organized with her the first pride in a Refugee Camp.
Miss Major is a trans elder and long time activist. Her fierce commitment and intersectional approach to justice has brought her to the forefront of many causes, including caring for people with HIV/AIDS, working with trans prisoners, and currently, mentoring her 'gurls' from Little Rock, Arkansas, where she runs House of GG, a retreat center for Black trans and gender nonconforming leaders from the Southern U.S.
Edgar Fabian Frias is a non-binary interdisciplinary artist I follow on IG @edgarfabianfrias for their divinity of gender and liberated world midwifing memes.
They have also been a collaborator with trans mystic Jonah Walsh
They also were both a part of this billboard project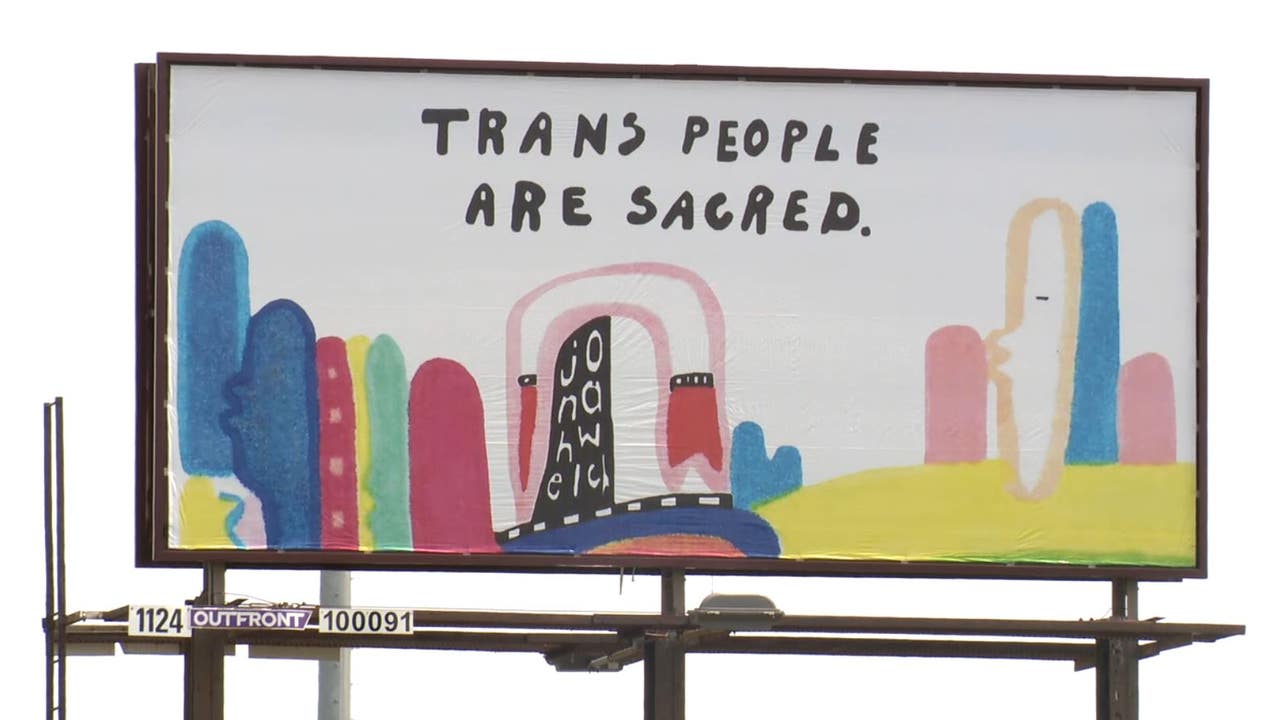 Another teacher I really appreciate and respect for per work in bringing light to the transcestors and the healing work of reconciling our lineages as divine genderblessed beings is Pavini Moray. Per podcast Bespoken Bones has featured many incredible interviews with visionaries, scholars, healers and teachers. Pavini also has a new school of erotic wellness that you can find by looking for Wellcellium.
Serena Bhandar is someone I consider a close friend and collaborator. She has taken up a huge amount of the labour of supporting the youth of the Trans Tipping Point project through the pandemic and into it's new evolutions as the Gender Generations Project and towards official non-profit status. I always love co-facilitating with Serena as we see things that the other doesn't, we bring a balance to rooms, keeping things playful while also progressive and transformative. In our "spare time" we play role playing games that involve developing the theology of a trans-centric pan-theistic underground apocalypse temple, we play with game tools made by Buried Without Ceremony.
I recently took in a digital panel
Serena participated in as a part of the Victoria Festival of Authors. There she was joined by indigiqueer trans author jaye simpson, who has wrote a bunch more than I have yet read, but I wanted to add this interview as a single jumping point to illustrate my point about vision and leadership needing to come from people who have seen the harms and flaws in the system that is dying. Here they use personal lived experience as a survivor of the indigenous child welfare system in Canada to illustrate the ways that the system causes harm, perpetuates genocide as well as suggestions and examples of successful (yet rare) alternatives.
Locally in Victoria, Two Spirit Coast Salish folks have started a non-profit called Le'lum Tshwemut or Purpose House. Intersex 2 Spirit Activist and author Bear Henry is working on developing and delivering harm reduction and addiction response services in a by-and-for Indigenous, queer and trans service model.
 Ravyn Wngz , based in Toronto, is a leader with Black Lives Matter Toronto and has powerful words on liberation, abolition, and love you should take in here:
. Ravyn was featured as one of the leaders recently lit up in an
illuminated public pandemic era art show in outdoor gallery space, The Bentway,
in Toronto in a show by Black trans artist and scholar
Syrus Marcus Ware
Syrus also wrote a book with Flamingo Rampant Press , called Love Is In the Hair , which, much like many other FR titles, is a favourite in our house.
Flamingo Rampant was founded by writer-educator pair S. Bear Bergman and j wallace skelton, Flamingo Rampant makes books that are both nutritious and delicious: fun stories and beautifully illustrated children's picture books containing important values like racial justice, disability pride, kids taking action, and most of all loving, positive LGBT2Q+ families and communities. Flamingo Rampant has a new season of books coming up through Kickstarter, including some very exciting titles for the middle grades reading level. If you have kids in your home or your gift lists, check out these books.
While I am throwing around book recommendations I must also mention Kai Cheng Thom. I haven't yet read any of the long form titles, but the childrens' book, from the stars in the sky to the fish in the sea, is a great pick for all parents trying to do right by who their kids are growing into, as well as all grown ups whose inner child could use an affirming tale celebrating their fluidity, creativity and unique difference. It's catchy, the sort of thing you can find yourself repeating in the back of your mind.
You can find more wise words and powerful movement building stuff by joining on to an event like these:
https://tdor.co/ GenderPalooza Visionary Blitz- an interactive abolitionist game show and performance, Friday 2-5 PST
https://fb.me/e/3ogaYKSM4 Love is Love is Love, an in person socially distant Trans Day of Remembrance Gathering and Dance. Friday 6:30-8:30pm Willows Beach, Victoria
https://www.goelevent.com/VQFF/e/BlackToTheFuture Black to the Future: Starting Friday 7pm. Black Queer Visionary Shorts Program from the Vancouver Queer Film Festival.
Honestly, I could probably riff like this for days; the depths of trans brilliance are limited only by the conditions we find ourselves in. Through mutual aid, and with support from our allies, our conditions can improve and with that, our mutually entangled liberation becomes further unlocked. 
In the act of drawing your awareness to trans people, our gifts and our magic, what have you found?